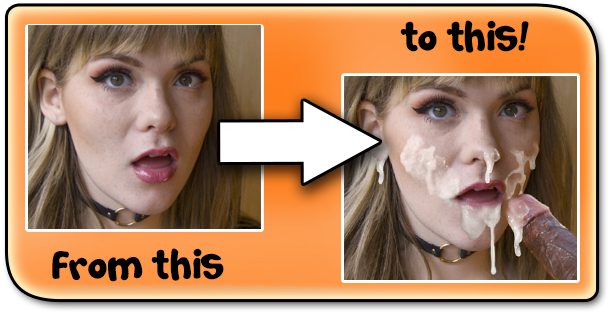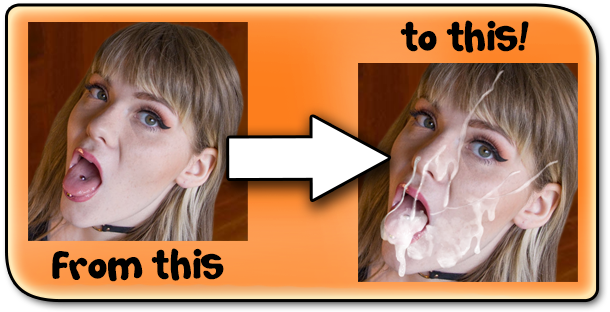 With Facial Factory you can load any image from disk or the web and cover it with a sticky load in minutes! No Photoshop skills? No problem! Facial Factory is super easy to use and comes with loads of spunk for you to plaster your favorite pictures with.
Who will you cover with your fresh hot cum?

What you get with Facial Factory!
Drag and drop from a large collection of photo-realistic cum blobs
Scale, rotate and position cum blobs into place
Auto-tinting – cum blobs detect the skin color and tint to match it
Change wetness, thickness and shadowing of blobs
Load background images from disk or from any image on the internet
Save your creation to your local hard drive
Bukkake brush for painting spunk directly onto the photo freeform style!
3D placeable penis for that final touch!
Lifetime free updates! New features added all the time.
What our customers are saying

Why do I need this? Can't I do it in Photoshop?
Even if you are a Photoshop master (are you?) Facial Factory is SUPER EASY to use and has many tools that are specifically designed for creating fake facials. It actually does a BETTER job than Photoshop. All the tools are designed for a total noob but they are super powerful.
We are offering a SPECIAL LIMITED TIME deal to get ALL of our current software for the super low price of $19.95 MEASLY BUCKS!!!! That means you get the full Windows versions of Facial Factory and Glory Hole Arcade + lifetime updates. Click the "Buy It" button for details.