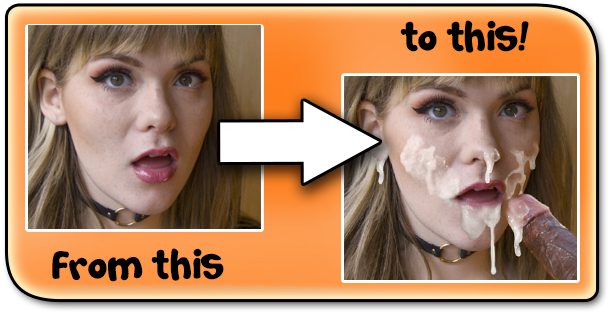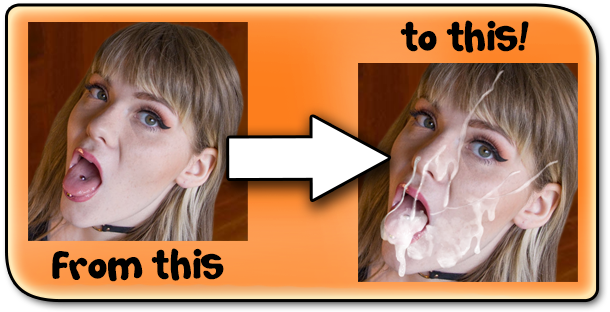 With Facial Factory you can load any image from disk or the web and cover it with a sticky load in minutes! No Photoshop skills? No problem! Facial Factory is super easy to use and comes with loads of spunk for you to plaster your favorite pictures with.
Who will you cover with your fresh hot cum?

What you get with Facial Factory!
Drag and drop from a large collection of photo-realistic cum blobs
Scale, rotate and position cum blobs into place
Auto-tinting – cum blobs detect the skin color and tint to match it
Change wetness, thickness and shadowing of blobs
Load background images from disk or from any image on the internet
Save your creation to your local hard drive
Bukkake brush for painting spunk directly onto the photo freeform style!
3D placeable penis for that final touch!
Lifetime free updates! New features added all the time.
What our customers are saying

Why do I need this? Can't I do it in Photoshop?
Even if you are a Photoshop master (are you?) Facial Factory is SUPER EASY to use and has many tools that are specifically designed for creating fake facials. It actually does a BETTER job than Photoshop. All the tools are designed for a total noob but they are super powerful.
We just launched our Patreon site so we are offering a SPECIAL LIMITED TIME OFFER for the first 50 subscribers ONLY!! You will get ALL of our current software for the super low signup price of 5 MEASLY BUCKS!!!! This deal is only for the first 50 subscribers so ACT RIGHT NOW. If this section is still here then the deal is still on.
Will you be one of the first 50?
What the hell is Patreon and why do you use it?
Patreon is an amazing platform that allows people like you to support developers like me.
You sign up to support us for a small monthly fee (you choose the level of support). In return you get access to our games and other great stuff like:
Full Windows version of Glory Hole Arcade (not available anywhere else)
Full Android version of Glory Hole Arcade
Full Windows version of Facial Factory
Our next title in development: Office Bimbo Text Adventure
Experimental features and bonus content!
Insider posts on adult game development
Vote on features and get early beta release versions
And much much more!
You can cancel easily anytime so there is no risk. You will only be charged for your initial month. Patreon is super secure, highly respectable and takes multiple forms of payment.
Our Refund Policy
Because you will get access to our software with your first payment we can't refund that amount but if you decide you don't want to continue getting updates to our amazing stuff and inside info then you can cancel anytime and you won't be billed again. We are confident you will want to stay around as an NSFW insider though!